Top 10 Basic Gears and Accessories That Every Biker Must Know
Hi riders, Greetings. We all know that a bike is not fully completed for normal use until it contains all the basic Gears and Accessories that every rider need in their bike lifespan both on track and off track. For this reason this week we have arranged "Top 10 Must Need Basic Gear and Accessories That Every Biker Should Know" post to make your bike full completed from all angle. It will help you to know the basic gears and accessories that you should manage to make your biking experience fantastic. Hope that you would like it. So, why waiting? Let's check it…
1. Helmet
Yes, It's Helmet and it is the number one. Now the question is why the helmet is in the first place rather than other? Because it's secondary name is the life saver. It is more than a personal safety equipment, it is a must carry tools when you are on the road, otherwise, if you get caught by police you have pay for this. It is not the only reason but also it make a rider stylish and increase the rider visible looks. From my personal experience, I can say that every time I put my helmet on during riding, really I feel safe and its a kind of freedom which give me the boost to make the right thing happen for me.
2. Security system
The next one is bikes security system( e.g: Locks, Chain, Placement etc). It is as important as your house security. Because low security is the main target of the bike thief. We all care so much about our beloved bike. So, its security is a key for all the bike owner. For this reason, ensure your bike maximum security by applying different types of locks and other effective tips. You can read those top 7 security tips and trick from here>>
3. Gloves:
Gloves is another important thing for the bike rider. It's not only for your protection but also it will help you to keep your hand warm in winter season. We all riders know that frozen hand condition in winter without haveing the gloves in hand. So, in order to ensure a safe & comfort ride, we should use the glove regularly.
4. Rain suit:
After owning a bike you should manage a rain suit with other important pieces of equipment. As still rain is happening suddenly as well as rainy reason is in front of. so, managing a rain suit you give you a tension free uninterrupted bike ride. So, as soon as possible collect a rain suit for you.
5. Cleaning & Polishing Kit:
Cleaning & polishing kit is a must collected thing for all the new and old bike rider. If you want your bike clean and glassy looks then you must have to collect this Cleaning & Polishing Kits. It will help you to ensure your bike external looks and give you a smooth feeling about your bike. Beside this Cleaning & Polishing Kit also help you to ensure your bike long life span.
Top 7 Bike Cleaning & Polishing Kit Tips to do it at home. Read here>>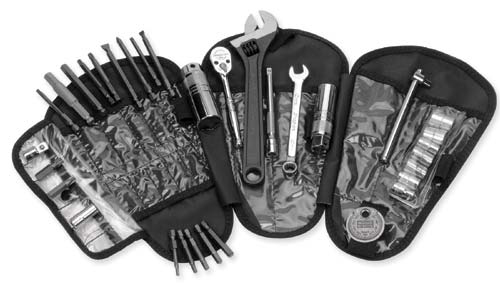 6. Toolkit set:
There are different types of toolkits available in the market to solve minor problem of your bike. If you have these toolkits then easily you could solve the simple problem of your bike. Suppose you need to reduce your wheel presser, or set up a new screw or bolt. By using this toolkit you could solve this easily. Even you could carry it with your bike. so that in case of need you cold use it anywhere.
7. Footwear:
Foot ware is another important thing because it is an essential part of your security. If you have perfect full cover footwear easily you could avoid the injury. It also gives the leg protection from over cold in winter season. So, every rider should use full covered footwear during riding.
8. Goggles:
Googles is an important thing for the rider. It protects the rider eyes from the speedy air flow. We all have been experiencing the airspeed during high-speed riding. At that time wearing goggles gives a super protection from the high-speed air flow. Beside this, it increases the rider stylish looks and makes him more pleasant.
9. Additional Forehead light:
Normally the light came with the new bike officially is enough for normal condition riding. But when the weather is not in favor with us then some additional forehead light has become an essential thing. For example winter morning or night, because of high due it's really tough to see forward without additional forehead light. So, If you don't have some yet, then try to add some additional forehead light as soon as possible according to your need.
10. Moto Audio system:
It is another important thing for the bike. Horn has become an undetectable thing with our bike when you are riding in south Asia. Here people use the horn to alert the forward and backward vehicle driver. It's a kind of security system that works both for your security and your bike security. The sometimes ready made audio system is not enough to alert people in high traffic area. Then upgraded Moto Audio system is very useful for the rider in high traffic. So, according to your need you should be upgraded your audio system.
This is the top 10 basic Gears and Accessories for all the bike rider. There are extra things like cell-phone carrier, back supporter and so one. But it is not directly related with bike gears, that's why we didn't include it in the list. If you are interested to know comment below we will discuss it in another BikeBazar tune.
Ok guys, That's all from today. We will see something new in next week. For then…
Secure biking, Happy riding..:)